Like the rest of the world this spring, my life was flipped upside down, adjusting to the realities of a global pandemic.
All of a sudden, my wife and I were unexpectedly thrust into the work from home environment. To set the scene, we live in a small two-bedroom apartment of a split level house in Newton (disclaimer alert, we do not have any kids). Before the pandemic, I would have said that our apartment, though not huge, met our needs. However, with the new work from home model, our apartment quickly became tiny. Quarantine Life forced me to take on many home improvement projects, not just to improve our quality of life but also for my sanity of working from home.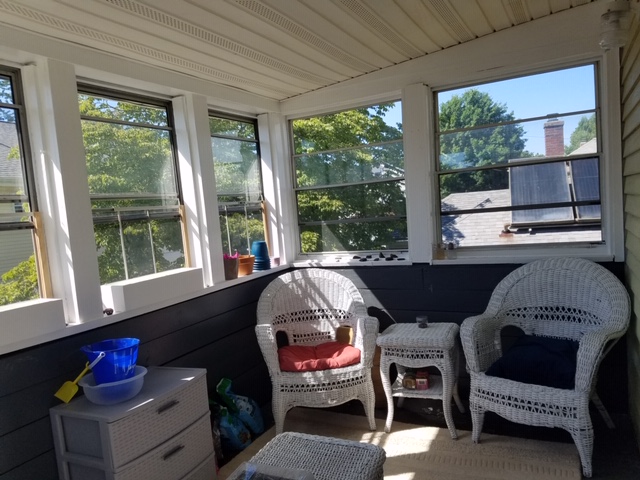 In late April, I took on the challenge of cleaning out and reorganizing our enclosed rear porch (formerly our impromptu storage shed) to give us more room around the house and office. What I believed at first would be a simple task, slowly led me down a rabbit hole of projects around the house. Cleaning out our 12 ft x 8 ft porch, no easy feat in itself, became a multi-step process. Packed with stuff, it all had to go somewhere. So, to start the cleaning process, I headed to the basement to make room for relocation. Once there, I took on the challenge of building freestanding shelves to house bins of winter clothes, Christmas decorations, and my most prized possession, my surfboards. Then, it came time to clean out the "stuff," and repaint window trim. We even took our wicker furniture out of storage, and just like that, our porch transformed into a usable space.
Our "new porch" has become a real treasure to our apartment. It has become my wife's mobile office when we are both on conference calls; she has the pleasure of working from a laptop. It is also our new place to relax, eat dinner, and watch the sunset after a long day.
I have since taken on other projects around the house. In May, I built two bookcase shelving units that tuck nicely into an alcove above our rear stairs to organize our linens/paper products. The shelf project then helped spur on some much needed (frankly overdue) spring cleaning of the entire apartment. On a recent trip to visit my parents, we came back with a multitude of seeds & seedlings to start a garden. So, for my June project, I started a garden, which has led me to build planter boxes for the porch windows.
Thinking back on this time spent working and being at home, I thoroughly enjoyed revitalizing an old space and creating new-inventive areas of my home, which is similar to what we do on our projects and what I enjoy about being an architect.